This is for my brother (kumusta, Bigg)who wanted to see more pictures than texts in this blog… hehehe. Yes Bigg, your wish has been granted. Ikaw pa, basta ikaw, kurog ko sa imo! 😀
The following are pictures of my trip to Malaysia. First part was the Congress (East Asian Seas Congress) where I presented a paper (ahem!) on environmental education and advocacy in Cambodia and, the second part, which was the fun part, when I traveled with my Thai friend, Anocha, to Pahang State and went jungle trekking in Kenong Rimba National Park. So there, enjoy. Will post some pics of my travels to Bangladesh (not so many good sights there though), Laos, Thailand, Vietnam and Sri Lanka later. Pangitaon ko pa ang mga pictures kung diin na. Baw, daw indi ko palakon, no? Tell Momsie and Popsie I will be home soon!!!
I. East Asian Seas Congress, Marriott Hotel, Putrajaya, Malaysia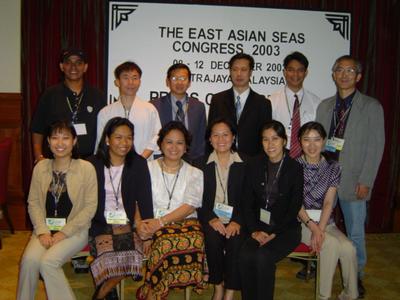 The team is composed of journalists from all over the Asia-Pacific region. Standing from left: Yon Thayrun (Indonesia), Lee jong-Myoung (Korea), Ivan Lim (Singapore), Yang Ming Seng(China), Orex Cayaban (PEMSEA Phils) and Tim Yoshida (Japan). Seated from left: Din Thu Hong (Vietnam), moi (representing Cambodia), Elizabeth Roxas (Philippines), Sylvia Inciong (UNIC Phils), Anocha Pichaisiri (Thailand)and Tang Yandong(China).
Finally with the presentation over, Anocha and I relaxed and seen here playing around. Ivan saw us and took this.
During the conference, I had the opportunity to brush elbows with former Philippine Senator Letty Ramos-Shahani, DENR Secretary Gozum and APFEJ Deputy Chair Elizabeth Roxas, and other big names in Philippine environment sector. I remembered very clearly while I was delivering my presentation Ex-Sen. Shahani was looking and listening closely to me. She was smiling, and sometimes nodding. I was looking at her, nearly getting distracted and feeling so self-conscious. It's not everyday that I deliver a presentation with none other than the former Philippine senator and other government officials of ASEAN countries in the same room with me. Thankfully my presentation was over with no major eff-ups. I quickly headed towards the girls room feeling queasy, haha. When I came back to the conference hall, the senator was already talking on the stage. She spoke about how women all over Asia are taking on more leading roles towards environmental protection. She also told the crowd how proud she was about how visible Filipino women are in the movement all over the world. She ended her speech by saying, that she's now ready and happy to retire knowing that there'll be Filipino women after her who will carry on her work. I was happy. I went to her and we hugged and she gave me a beso-beso. Hay. I feel like I'm doing something productive and important and just grateful for the opportunity to learn from ASEAN's movers and shakers in environment protection.
II. Jungle Trekking in Kenong Rimba National Park, Kuala Lipis, Pahang State, Malaysia.
The second part of my first trip to Malaysia was a jungle-trekking adventure in Kenong Rimba in Kuala Lipis with my very good friend, Anocha. We extended our stay in Malaysia for another week after the conference and went to Kuala Lipis, a cosy little town in Pahang State. The town's main street is narrow and, although it showcases its mix Chinese, Indian and Malay cultures, there were old colonial buildings that remind you of its important past. Walking along the old town is like walking in any small town in the Philippines.
We didn't waste time so it's off to the jungle we went first thing in the morning.
My camping gear were all borrowed from Yumiko. If you notice, my pants were tucked inside my socks, which were sprayed with a leech-repellant. I have to say, it was a really beating loud for fear of wild animals ambushing us. Appu assured me that there were none, except for wild elephants. hah. Saw some monkeys, didn't know which kind though. They're sat noisily on top of the tall trees.
Trekking in the jungle we saw a lot of rubber trees. Malaysia is one of the world's leading producer of rubber. It seems to be so easy when Appu demonstrated how to tap a rubber tree, but when it was my and Anocha's turns — totally opposite. We will never make it as rubber tappers. We will stick to office work.
We had a stopover at this hanging bridge, took a break and snapped some photos. With me is Appu, our Indian guide who was born and has lived in Kuala Lipis all his life. He also told us stories about his work as a guide. According to Appu, I am the first Filipino to have trekked in Kenong Rimba. I was elated to hear that, hehehe.
Kenong Rimba also had several interesting caves and we explored some of them. Appu gave us flashlights and I'm amazed at some of the formations around the walls and ceilings. In one of the caves there was a shallow streaming flowing. I've never done full-caving before and all I can say is that as soon as it gets dark and cold as you go deeper, it gets creepier. I was also beginning to get claustrophobic and was on the verge of a panic attack. (Un)Fortunately, I slipped and fell bum-first in one of the rocks that I ended up with a bruised backside and muddied pants – and that distracted me from my phobia and the impending panic attack!
Before I end, I want to share this picture of our generous hosts in Kuala Lumpur, Chris and Yumiko. Chris is Anocha's colleague, both are part of the same network. Yumiko, on the other hand, was my colleague in Cambodia. She was a Volunteer Advisor in the local NGO where I work. There's a funny story how Anocha and I ended up in their apartment (for one week!!!) in Petaling Jaya but that's reserved for future post. Both also have the same birthdays so we had a celebration for them.
Thank you both for the lovely time in KL. We had a roof over our head and nice, warm beds to sleep after days and days of shopping and wandering at Kuala Lumpur. Yumiko, thanks for the camping gear and for picking me,Anocha and Hong at KLCC. You're an angel. Please visit Cambodia again.
Chris, thanks for carrying my really HUGE luggage from PJ to KLCC. Would have taken you for breakfast but time is too short. Hope to see you both again.