The clock is now ticking loudly to the day that I will be … well, home!
Exactly 2 days from now. So let me see… I really need to check my to-do list before I go home. Here goes:
1. Finance situation for 2005 (chart) (done)
2. Set up meeting with Canada Fund (done)
3. CFI proposal letter (revision of budget) (done, with positive result)
4. Canada Fund concept paper (all projects in one)
5. Fundraising activity outline
6. Make sure the Annual Report is sent to everyone in the list (partially done)
7. TMA2 Media survey (maybe finish at home)
8. Buy silk cloths for Momsie, polo for Bigboy, Cambodian tshirts for Lab
9. Pay house rent and electricity and phone bills
10. See Kunthea, my Khmer language teacher, before she leaves for India (one-year study)
11. Pick up the software CDs from Ate Susan (to send to Davao City thru LBC)
12. Call up Badette (about her padala for her parents)
***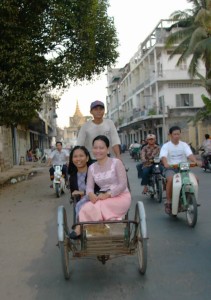 I saw Mao Vy today. She's gained weight, and she looks happy. I didn't get to talk to her that much because I was riding the cyclo (see picture) and she was on her moto probably on her way home. Just enough to say soksapbay (how are you) and lie haoy (goodbye).
Mao Vy used to be the finance officer in the office (Mlup Baitong). She was efficient and rather good at keeping Mlup Baitong's finances in order, but her bad attitude overshadowed her good work performance. She's younger than me but looks older because she's masungit and definitely has no person-to-person skills, which is a must if you are an NGO worker.
Every single staff, from the cleaner to the Project Officers and to the Coordinator, is at odds with her. That's why she has no friends at the office. Nobody asked her to go out and eat or hang out on Friday nights. No one invites her to any lunch outs during weekends. Poor girl. Anyway, I think she's happier now that she's not working with us anymore. Months after leaving MB, she got married to an American (huh!) and I heard she's only waiting for her visa to arrive so she could join her husbie in USA. Good for her. By the way, the girl in pink in the picture is Mao Vy. Amanda took this while we were on our way to a wedding. All prettily made up and riding a cyclo to a wedding. Hah.
***
Borrowed from MizBelle's blog:
"Don't go for looks; they can deceive. Don't go for wealth; even that fades away. Go for someone who makes you smile because it takes only a smile to make a dark day seem bright. Hope everyone finds the one that makes them smile."