Hi there.
I've been meaning to post the finished baby beanie that is my second project for the Stash-buster challenge. So here it is: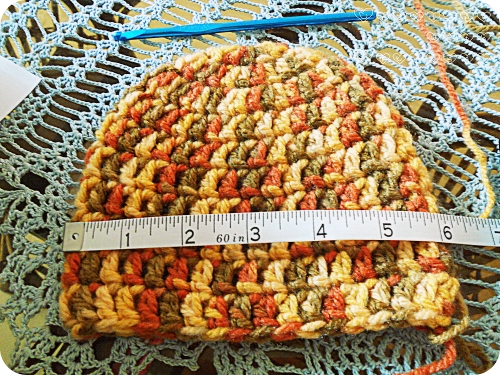 The pattern indicates that the finished beanie should measure 6.5inches. As you can see, mine is just 6inches. I don't know if it's going to be problem later on, but, aren't newborns tiny, right? This should fit.
For my third project, I haven't really thought much about it. I was still recovering from our weekend kite-flying activity outside of Phnom Penh. We flew kites for three hours under the baking sun! And not just ordinary kites – they were handmade by my husband and fitted with a camera to take pictures while up in the air. It was worth it, sunburns, dusty feet, sweaty clothes and all!
Anyways, back to the project. For my baby project, I wanted to make a pair or two baby booties but could not find patterns that I like. I think I need to search more so I just tossed this idea aside and looked for something else to do so I can share it here. And guess what I've finally decided to make… granny squares. A lot of them, actually.
I love mixing and matching the different yarn colours. They look really great, aren't they?
I was also crocheting from memory. The pattern was taught to me by my mum and the very first one that I "mastered" when I was beginning to crochet 🙂 I think it's a pretty simple pattern and very easy to follow. I've made a lot of these way back so I know the pattern by heart. Funny thought that while crocheting the squares, I was feeling a bit nostalgic. Thoughts about the many summers spent with my mum and sisters, sat together and learning how to crochet, flashed in my head. Please excuse the sappiness, it must be the hormones, hahaha.
Now, what to make of these again?
I think the squares will make a nice cover – of what, you ask, of just about anything. Hahaha. It can be a table runner, sofa cover, or even a laptop sleeve or something. But I just don't know how to attach the squares altogether 🙁
Any suggestions? Please do. I would love to hear from you. Meanwhile, I'm going to visit other Stash-buster challenge participants' sites and hopefully I can find inspiration from their works.