I was away for a while, got busy with some stuffs that needed my attention that my crocheting projects had to be put on hold. Then there was the holiday, the Cambodian King's birthday, and we went away for the weekend. Oh, that was a lovely two days of pure chillaxing.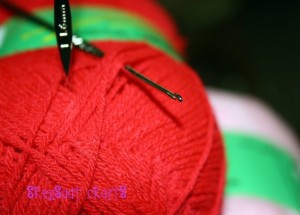 Anyways, my younger brother also went for a holiday, but went a little farther, to the Philippines (and came back already) and I sent nine 100gm-balls of yarn in different colors for my mother who was suddenly bitten by the crocheting bug. Actually, my mother saw this blog and the things I had done, and being a hooker herself, it didn't take that long for her to pick up her hook and join the crocheting bandwagon again. She told me she liked the yarns I bought and would love to have several balls of them as she plans to crochet stuff for my nephew and nieces – so there.
My husband accompanied me to buy the yarns and we didn't have difficulty in finding the stall amidst the maze that is the O'Russei market. I like shopping for yarns and choosing colors was fun.  I was delighted when he paid for all of it. We even bought my mother a pair of new crochet hooks as the ones my mom have are already old and rusty.  I can only imagine my mother's reaction when she saw the stuffs – it was more than what she'd asked me for! *lol*
Okay, so it won't be long till I post here some of the stuffs I am working on. I need to finish some stuffs before I could be able to sit down and work on them, but I will sure give updates on the Afghan square and runner which I've began not long ago.