Hah, it's been awhile again. I wasn't up to writing (again) because Rafa (Nadal) lost in the QFs of this year's Roland Garros tournament.  I was beside myself (slight lang, hihihi). Thankfully, my husband knew exactly what to do to get me out of this funk — he took me shopping.  And when I say shopping, I meant shopping for calligraphy supplies 🙂  So I want to share some of my spoils.
But before I went on a splurge, my husband and I went to Home Top first. For quite some time now we have been meaning to get new frying pans but we couldn't find ones that we're looking for. While checking out the frying pans, I overheard an elderly expat couple at the aisle opposite us discussing to Buy spandex table cover. Didn't mean to be eavesdropping, but, really? A spandex table cover? It's the first time I heard that, pardon my ignorance. Anyways, we found what we're looking for — a decent non-stick frying pan.
We bought two, of course. We also got dish-washing sponges.
We then drove to Aeon Mall for my calligraphy supply – check out the stuff I picked up. My last splurge was in early January this year when I ordered various nibs, pen holders and ink from an online shop in Manila through my sister, DonyaBooding. Aren't sisters the best? 🙂 This time though, it was my husband who offered after seeing that a) I needed cheering up after Rafa's loss, and b) I have the knack for hand-lettering and calligraphy. I kid, I kid!
I was surprised to find Sakura Gelly Roll pens at PBC. They're only $0.85 each.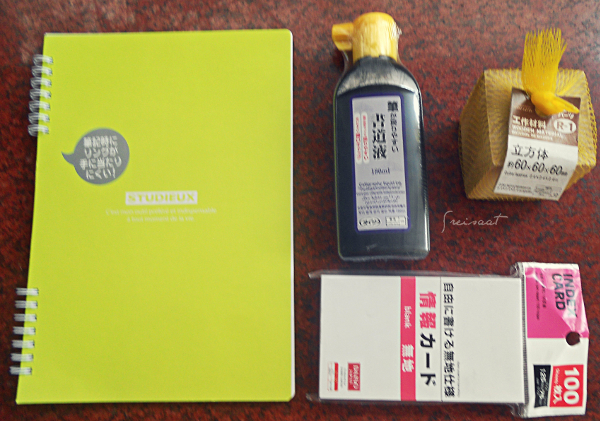 And because I'm exploring other tools, I got these brush pens. So now I'm both into dip-pen and brush calligraphy. Bah, yabang!
Some of you might scratch your heads and wonder … since when have I been artsy-fartsy? It's kinda, sorta, hidden, just like my talents are, lol. Seriously though, learning calligraphy is #40  in my bucket list. And this year is the year that I get to pursue this creative hobby. So watch out for more artsy-fartsy goodness in the future posts.