Yes, you heard it right! I'm taking a breather from a hectic routine just to bring you this news from Papemelroti. It's an exciting opportunity to win products from my favourite hobby shop in the Philippines.
ATC is the acronym for Artist Trading Cards. Basically, they are miniature art and they are made for swapping, collecting or trading with other ATC makers. So now, Papemelroti is hosting an Artist Trading Card-making contest and the winner gets to bring home this fantabulous scrapbooking set. And here's a look at the prize: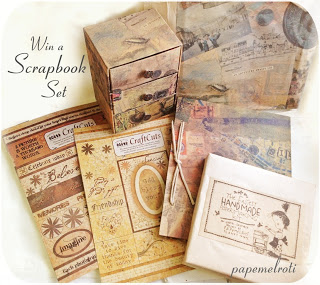 So what's in the prize pack? A LOT!!!
10-compartment organizer
Each Moment Handcrafted Tags
3-drawer Adventure Box
Bless this Earth Rubber Stamp
Adventure Notebook
Friend Sticker
Quotes Sticker
Adventure Bookmark
Adventure Bound Notebook
Always Remember Scrapbook Ornament
Assorted Craft Cut Pieces
Ellipse Scrapbook Ornaments
Adventure Spiral Notebook
Believe Craft Cut Sheet
Today Craft Cut Sheet
Cutout Kraft Letter Sheet
Adventure Medium Scrapbook with Matching Paper Bag
All of these Papemelroti products are made with 100% unbleached recycled paper. For more details about how to win this prizes, all you have to do is make your own ATC out of any materials you can use.
There is a big community of collectors/swappers/traders out there. I think it's a fantastic way to express one's artistic and creative sides and also a great venue to meet other people with similar interests and forge new friendships.  Don't know how to make one, DON'T WORRY. Papemelroti will teach you how!
So why don't you go and visit Papemelroti now to learn more about ATCs and how to win the cool prizes!